EMS Survey Team is committed to being a great partner for our clients as well as an asset to the EMS industry as a whole.  That's why it was an honor to work with @Ask_Fitch and @ems1 to bring our experience in survey and data analysis to the EMS Trend report.
We had the opportunity to dive into the EMS Trend Report through the lens of Employee Engagement.  This article highlights a number of key findings.
A Tale of Two Trends
Parallel findings in EMS survey data elevate leadership and career advancement as essential to employee engagement
Nov 18, 2021
---
By Lyn Berghuis, Robert Farrell
EMS Survey Team (EMSST) was asked by Fitch & Associates to compare and contrast our national employee engagement survey data to the 2021 EMS Trend Report to see if there were any similarities worthy of note. While there were many parallel themes, two significant findings stood out: leadership and career advancement.
As a national provider of patient and employee experience surveys, EMSST believes that, among other factors, high employee engagement drives high performance. We define employee engagement as "the extent to which employees feel passionate about their jobs, are committed to the organization and put discretionary effort into their work." This is a fairly representative definition of employee engagement in most industries.
It is important to emphasize that our national EMSST results demonstrate having either an actively engaged workforce or an actively disengaged one, do not correlate with the size of an organization or the number of employees. Both the EMS Trend Report data and our data show that organizations both large and small have the potential to succeed with an engaged workforce or fail without one.
Another principle our employee engagement data shows us time and time again is: when leadership is strong, overall engagement is strong. For both national surveys, perception of leadership is a powerful influencer.

 Learn more
2021 EMS Trend Report: Redefining adaptability, resilience and growth
The impact COVID-19 had, and didn't have, the changes we're embracing, and the change providers want to see
---
LEADERSHIP:  ACTION, NOT POSITION
Care providers want leaders to be engaged with them, especially in times of crises. What does that mean or look like? Respondents of both surveys yearn for the opportunity to be heard and understood, and get real face time. They need decisive action, transparent behavior and steady communication. This is best illustrated by a quote from Donald McGannon, "Leadership is action, not a position." The combination of these qualities begets the trust of your employees in all areas of operation. Transparent communication and actions by leaders to providers are key to making employees feel that they are a valued part of the organization.
Furthermore, employees who trust and respect their leadership don't just understand the mission and vision; they become it. They are the flagbearers and faces you want out in your communities caring for each other and your patients. These care providers establish trust with their patients not because of their uniforms, patches or badges. They establish trust by communicating transparently with patients, sharing information and treatment that is needed, and asking meaningful questions that empower the patient to be part of the process. Patients trust us to do what is best for them. Your team members want and need to have that same level of trust in your leadership.
Never is this need for strong leadership more apparent than in times of crises. Like other national crises, the COVID19 pandemic brought out some of the very best in EMS; and it also showed where we have opportunities for improvement. This pandemic challenged almost every aspect of EMS operation, and yet the perception of optimism in EMS did not greatly diminish. In fact, the top box rating for the 2021 EMS Trend Report question, "I am optimistic about the future of EMS" increased in Strongly Agree responses from 13% in 2020 to 16% in 2021.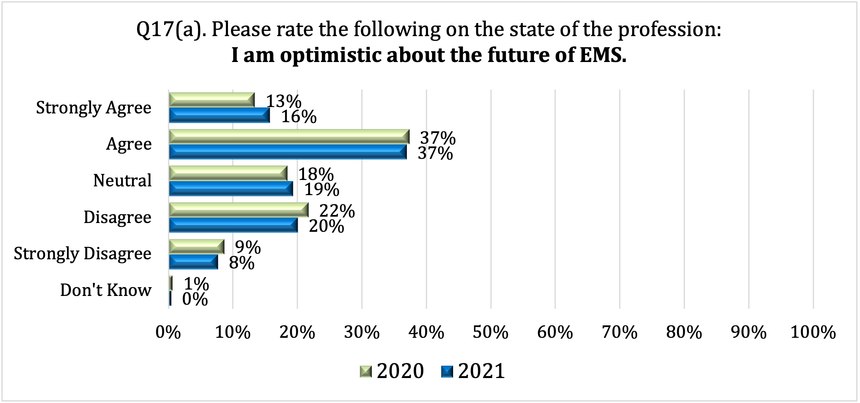 CAREER DEVELOPMENT OPPORTUNITIES
Another interesting theme that threaded through both EMSST and the EMS Trend Report surveys is the lack of vertical advancement. A commonly asked question on our employee engagement survey is "What should we do to help attract and/or retain staff?" The number one response is wages followed by benefits. No surprise here! The third however, is career advancement.
Not so ironically, the EMS Trend Report data shows those same three factors (wages, benefits and career advancement) are why people are leaving their organizations. Realizing that most EMS organizations have a finite number of vertical advancement opportunities (field supervisor, QI manager, etc.), allowing for horizontal advancement/career development may keep the provider engaged, and ultimately more appealing to leaders when a vertical advancement opportunity arises.
Perhaps there needs to be more focus on career development and horizontal opportunities to keep your providers involved, engaged and growing.
EMS leaders' challenge now is to leverage the collective knowledge, shatter paradigms and develop practices that embrace providers and future leaders. An engaged workforce can truly transform your organization and the EMS industry.
ABOUT THE AUTHORS
Lyn Berghuis is a Performance Improvement and Data Analyst, and Robert Farrell is Director of Customer Experience with the EMS Survey Team